Ingredients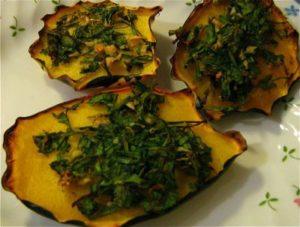 1 acorn squash
1 clove garlic, diced
1/2 tsp salt
1/4 tsp pepper
Zest of one lemon
2 tbsp chopped parsley or cilantro
2 tbsp chopped dill
Olive oil for brushing
Directions
1. Wash the squash to remove any dirt, and cut it in half. No need to peel it. Scoop out the seeds, and then slice the squash into 3/4-inch pieces.
2. Brush a large baking sheet with olive oil lightly, and place the slices evenly on the sheet (place the edge pieces skin side-down). Brush the tops of the slices with oil.
3. Combine the chopped garlic, herbs, salt, pepper, and lemon zest in a small bowl and press into the tops of the squash slices to coat thickly.
4. Bake in preheated 325 degree oven for 35 minutes, or until the squash is tender.
Source: multicuriousity.com