Ingredients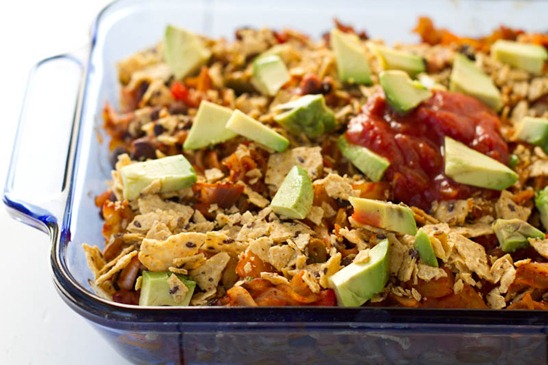 8-ounces dry fusilli pasta (3.5 cups dry noodles or half a 16-oz package)
1 tsp olive oil
1 red onion, chopped
1 medium jalapeno pepper, seeded and chopped
3 bell peppers, chopped
1-3 tbsp taco seasoning mix, to taste
1 can black beans (or 2 cups cooked), drained and rinsed
1.5-2 cups enchilada sauce
1/3-1/2 cup Daiya cheese (or other non-dairy cheese)
1 cup chopped green onions
Salt & pepper, to taste
20 tortilla chips (about 2 handfuls), crushed
Avocado, salsa, sour cream, etc, to garnish
Directions
1. Preheat oven to 350F and grab a 2-quart casserole dish. Add dry pasta to a pot of boiling water and cook for 7-8 minutes. Be careful not to overcook the pasta or it will get mushy in the casserole. Drain and rinse with cold water to stop the cooking process.
2. In a large skillet, sauté the chopped onion, jalapeno, and peppers in the olive oil over medium heat for about 7-8 mins.
3. Add the taco seasoning, drained and rinsed black beans, and 1 cup of the enchilada sauce. Stir well and cook for another 5 mins.
4. Stir in the cheese, pasta, and chopped green onion. Season with salt and pepper to taste and adjust seasonings if necessary.
5. Spread 1/2 cup of enchilada sauce over the bottom of the casserole dish. Scoop on the skillet mixture and spread out evenly. Spoon on the rest of the sauce on top and sprinkle with cheese.
6. Bake for 15-20 mins at 350F until heated through. Sprinkle with crushed nacho chips, chopped avocado, salsa
Source: ohsheglows.com